Welcome to the official home of NZ 2021 Ngaio Marsh Award wining author Chris Stuart.
Her eagerly anticipated second Crime Novel The Glasgow Smile will be launched at the end of May 2023. Follow on Social Media for updates. Pre orders will be available from early May.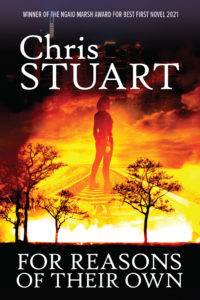 Can the past ever be left behind? Ask a flawed detective, a former refugee and a government desperate to misuse a dead body to reshape Australia's security policy.
Melbourne is a city on the brink, from arson fed bush fires, searing heatwaves and the potential threat of terrorism.  Detective Inspector Robbie Gray, falling foul of Police bureaucracy, gets called to a body found lying in a rural swamp. When the nationality of the victim is revealed, ASIO takes over her investigation and she is sidelined. Convinced they are misinterpreting the evidence, along with a disenfranchised Aboriginal policeman, she secretly digs for the truth and discovers an entirely different motive, one which transcends international borders and exposes corruption in the humanitarian world.  When the killer is arrested, DI Robbie Gray realises that the past contains only hurt and pain and she asks herself whether, in certain circumstances, murder may well be justified. 
"For Reasons of their Own,"  is aimed at international readers who love the psychology of crime, who prefer to empathise with a strong female protagonist, who want to learn and understand something quite different about the humanitarian world and who look forward to the next book in the planned series.
Currently available as a paper copy (order from the shop page) and ebook (Amazon.com). 
A formidable display of stunningly written scenes that cohere into a fully satisfying narrative
"For the past several years, I've read all the novels from the shortlist for the Ngaio Marsh Awards, literary awards presented annually in New Zealand. But this year, several things conspired to prevent me from doing so. Still, I was determined to at least read the books picked as the best novel and best first novel. So, that's how I…read more →
Major new writing talent
"For Reasons of their Own is a thrilling debut novel that announces a major new writing talent to the world."  
Book explores grunty themes
"Just finished reading this book after going to the launch at the weekend... what a page-turner. Highly recommend. Chris is a talented new writer exploring some grunty themes of culture, ethnicity, courage, ethical dilemma, relationship - she's woven a very compelling story."
It transported me right to Melbourne and the convention centre in the first few pages…
"From Plinkers, and I thought she didn't want to play ukulele anymore but she has holed herself away to write her debut novel. Written in Nelson but set in Melbourne - it transported me right to Melbourne and the convention centre in the first few pages. The nearby semi-rural suburbs hinted at locales yet to be discovered."  
This book is an atmospheric murder mystery set in the heat of an Australian summer.
"This book is an atmospheric murder mystery set in the heat of an Australian summer. It raises the issues of refugees and the agencies that are supposed to look after them. Not only did it make to want to know who did it, it also made me care about DI Gray and her colleagues. A good read."
A life lived to the full
"Chris has certainly lived an interesting life. This really comes thru in her writing and she's not scared to say it like it is. It's refreshing."
A natural writer
"Chris Stuart is an exciting writer who is making waves on the New Zealand Crime novel scene. Highly recommend!"